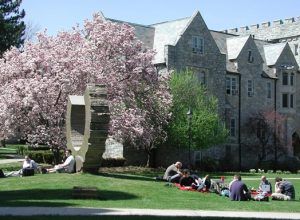 All undergraduate students in the School of Business are required to successfully complete The Legal and Ethical Environment of Business (BLAW 3175). In addition, courses on Law and Ethics for Professional Accountants (BLAW 3277), Real Estate Law (BLAW 3274), Corporate Social Impact and Responsibility (BLAW 3252), Business Solutions to Societal Challenges (BLAW 3254), Legal Aspects of Entrepreneurship (BLAW 3681), and International Business Law (BLAW 3660) provide further knowledge and skills to students.
Pre-Law Study
The University of Connecticut does not offer a formal or designated major or course of study in Pre-Law. However, students interested in attending law school are well served by the courses taught by the Business Law faculty. The courses offered are in scope, content and presentation, more similar to a law school course curriculum than other law related courses at the University. No doubt, a broad and diverse undergraduate course of study is still the best preparation for a successful legal career. Toward that end, a student would be well served in preparing for law school by mixing courses in the social study of law with Business Law courses steeped in legal principles and concepts.
Professor Mark DeAngelis is a member of the University's ad hoc pre-law committee, working closely with the University's pre-law advisor on policy and planning for students interested in a law career. In addition, the Business law faculty members are always open to meeting with and advising students who have an interest in the law.